One of the best ways to learn bass guitar from the comfort of your own home is to take advantage of the bass courses that are available on the web. Here we present the very best in bass guitar courses on the internet today. We know your time is valuable, so we've so we've done all the groundwork for you. We encourage to read our full reviews for the courses you are interested in.
The bass guitar is an incredibly fun instrument to play, yet a difficult instrument to master. The lessons reviewed below were created specifically for the bass guitar and should greatly help you on your journey to becoming a bass guitar master.You can always bookmark this site this site if you want to come back later.
Top 4 Bass Guitar Lesson Reviews
Teach Me Bass Guitar
Rating:
Published By:The Learning Dock, Roy Vogt
Website: www.TeachMeBassGuitar.com
Pricing: From $187.50 (25% Off Retail)
For Skill Levels: Beginner-Advanced
Official Website
Read Review
For years, there's been a dearth of quality video-based bass guitar courses for new bassists available online. In 2009 that changed in a big way with the creation of Teach Me Bass Guitar, a brand new course from The Learning Dock, a multimedia music education company.
Teach Me Bass Guitar is comprised of 10 full-length DVDs and 20 lessons that clock in at over 16 hours of bass instruction. This is by far the largest bass course we've seen to date. The course contains over a year's worth of bass lesson, so this is not a bass program you'll want to rush through. If you are able to master everything through lessons 10, you will already be a very competent bassist. Though the course was designed with beginners in mind, it doesn't leave you there long. Intermediate bass players will find the course relevant to their development as well.
I'm going to spill the beans right off the bat… Teach Me Bass Guitar is the definitive A-Z bass guitar course on the market today and we highly recommend it. In addition to the accolades Teach Me Bass Guitar has garnered from the greater bass community, it has been the recipient of an AEGIS Video & Film production award in 2009 and a Telly Award.
Read Full Teach Me Bass Guitar Review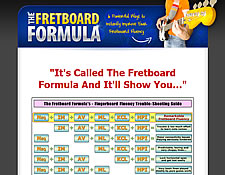 Fretboard Formula
Rating:
Published By: Bass Guitar Tips, Alex Sampson
Website: www.FretboardFormula.com
Pricing: From $127
For Skill Levels: Beginner-Advanced
Official Website
Read Review
It can be rather difficult to find good-quality learning products that specifically teach how to play bass guitar online. So we were highly interested when we discovered that Alex Sampson had recently released a new multimedia bass guitar course called Fretboard Formula. We placed our order for the course as soon as it became available, and were pleasantly surprised with what we found.
The Fretboard Formula contains many learning elements that other bass courses leave out, such as video training, solid musical theory, and audio demonstration tracks. The video element of the course is fairly substantial containing over nine and an half hours worth of instruction...
Read Full Fretboard Formula Review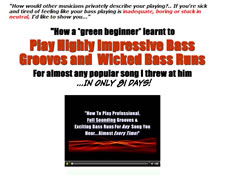 Bass Guitar Secrets
Rating:
Published By: Bass Guitar Tips, Alex Sampson
Website: www.BassGuitarSecrets.com
Pricing: $49.95
For Skill Levels: Beginner-Intermediate
Official Website
Read Review
Bass Guitar Secrets has established itself as one of the leading bass guitar learning courses on the web. This package deal has great deal of quality training material, super useful software, and is backed by one of the best warranties you will ever find with in a digital learning product.
Alex Sampson, the author of Bass Guitar Secrets is a master of the bass guitar and has a unique training style with unique information to help bass players of any skill level.
The course covers topics such as how to play by ear, theory for both beginners and intermediates, tablature, scales, and chords. You name it, they've got it covered...
Read Full Bass Guitar Secrets Review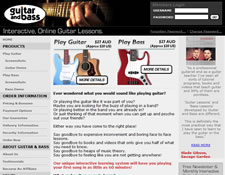 As the name suggests, Guitar and Bass offers two different courses on their website for both the bass guitar and the acoustic / electric guitar. If you buy the download version they have available, you will get access to both of these courses.
Guitar and Bass is a very impressive product with an extremely low price tag. With 50+ lessons, the course covers a wide spectrum of bass guitar techniques, chords, styles, how to play lead and accompaniment bass guitar, and teaches everything in a unique, interactive way. There is a demo lesson available on their site which we encourage you to check out.
The Guitar and Bass course is available as an internet access download version or a packaged cd-rom version. We like the internet based download as it gives access to both the bass guitar and the regular guitar course, has several great software add-ons, and saves even more money as you don't have to...
Read Guitar and Bass Review
Our Bass Guitar Lessons Summary
Above on the right side of the page we list the bass guitar lesson reviews on our site.
Our Editor's Choice: Teach Me Bass Guitar by The Learning Dock is our favorite DVD curriculum and our #1 pick overall. For information on all this course offers, see our review.
Both Bass Guitar Secrets and Fretboard Formula come in tied for second. While Fretboard forumula utilizes DVD video lessons (currently very few bass guitar courses do), Bass Guitar Secrets is a multimedia eBook based course. Bass Guitar Secrets has great bass guitar theory, and high-quality audio examples for all the lessons you get. If you can't afford in-person bass guitar lessons because of the cost, you won't find a better pc-based training course than Bass Guitar Secrets for the money. Read our full Bass Guitar Secrets Review for more details.
Gigajam on the other hand, is not as heavy on the content, but is a decent choice for newbies. For basic bass lessons, Gigajam is definitely overpriced, but does give beginners a decent start on the bass guitar.
Other Bass Guitar Software Products:
We also reviewed several other guitar courses and software that didn't quite make our list of recommended guitar lessons. In general, we weren't too terribly disappointed with what other bass guitar courses offered with the exception of Music Master Pro, which we would advise that you skip in favor of our editor's choices.
Recent Bass Guitar Articles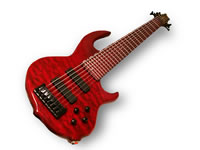 Which is Harder to Play? Guitar or Bass?
Explains some of the differences of the bass guitar and regular guitar.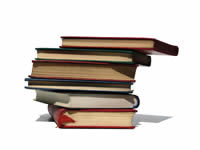 Online Bass Lessons vs. Private Lessons
Some of the advantages that online bass lessons have over more traditional methods.
History of the Bass Guitar
Discover how the bass guitar came to be.
Disclaimer Notice
We are an independent product review site and take great pride in the integrity or our reviews. In the interest of full disclosure we want our readers to be know that we do receive review copies of all lessons and software that we review on this site. We do also receive financial compensation in the form of commission on some, though not all products talked about on this site. Please note that we do not allow this to interfere with our editorial process.
Also, we should point out that we do not accept paid reviews in any way in order to keep an unbiased viewpoint. Lastly, we don't have any personal interest in the products we review, nor are we owned by any company whose products appear on this site. Thank-you for reading!